Q&A with boys soccer head coach Andrew Yeoman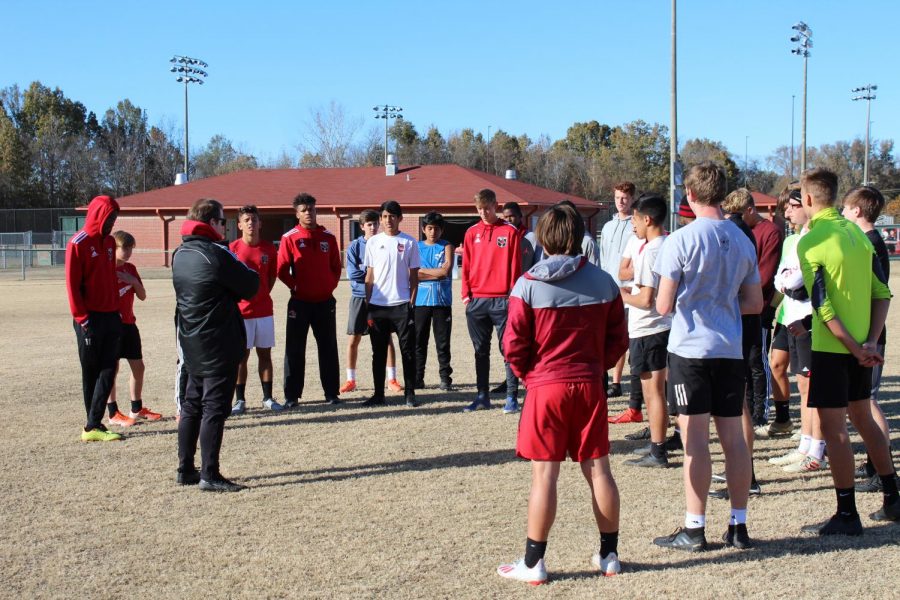 Coach Andrew Yeoman's Mustangs ended the soccer season with a district record of 5-0 and an overall record of 16-1. With the help of assistant coach Blake Lashlee, Yeoman led his team to their fourth straight district championship, first ever North Half title, and first ever state championship. Here's what Yeoman, the 2018 DeSoto County Soccer Coach of the Year, said about this winning season:
Q. What did you know about Long Beach's strengths/weaknesses that helped strategize for the state championship Saturday?
A. Going in we knew Long Beach was a great defensive team. They had only been scored on four times all year. Our plan was to try and eliminate mistakes defensively to not give them easy opportunities to score and try to break down their defense by attacking with width so that they couldn't settle in and be compact in front of their goal.
Q. A state championship eluded you and your team for a while. What was different about this season from other seasons?
A. The biggest difference this year compared to years past is how quickly we were able to move the ball. I attribute that to the boys working extremely hard on it but also natural chemistry from guys in the midfield and attack playing within this system for 3-4 years straight now, and also these guys growing up together since a young age playing in each other's back yards or on random fields on weekends.
Q. How nervous were you and your players Saturday?
A. Without a doubt nerves had set in but we tried to tell them to focus on what their role was specifically within our system to help us win instead of the moment and everything that came with it. I like to believe that helped.
Q. Describe the bus ride home.
A. The bus ride was great! We had a charter bus, which I know the guys enjoyed, and parents prepared numerous things for us to eat along with candies and sweets from the Insane Stangs.
Q, Where does the team go from here?
A. The team will continue to challenge for state titles. There is a lot of talent left and as long as they continue to play hard for each other the rest will take care of itself.