Opinion: Teachers are superheroes and should be paid more
The word teacher is a powerful word. The dictionary version of teacher is a person who teaches, especially in a school, but my definition of a teacher is a superhero. Not all superheroes wear capes. My definition of a teacher is someone who notices something that no one else has noticed and makes that student aware of it, like Katie Lindberg Peters, an English teacher from Toledo, Ohio. In a recent Facebook post that went viral, she described a typical day in the life of a teacher.
"Today I taught 6 periods and I subbed during my planning," Peters said. "I helped a young man find safe housing, a sweet girl secure a new winter jacket, replaced a student's missing backpack, arranged for a replacement chrome book, made sure a student had food for this weekend and gave another a little cash for a haircut. I listened to a (lengthy) story about a new puppy, sat with a girl crying from cramps and supported a boy navigating his first heartbreak. I walked a new student to her next class, saved an art project with some super glue and wrote a card to a student I suspected is struggling right now. After that, I went to a meeting, tutored a student and tried to finish a college letter of recommendation that a student asked me for yesterday and needs by tomorrow."
In all on that particular day, Peters posted that she "spent 10 hours working at work and 4 hours more at home trying to plan fun, inviting lessons. And I'm not asking for a single accolade, I don't tell you this for gratitude, I don't want a pat on the back. I want you to know that in your child's school, 30 – 50 teachers and school support staff did this today. And we will do it once again tomorrow. It's also why we are exhausted."
Her comments were in response to an online post that was critical of teachers after they returned to in-person learning following the COVID pandemic.
"Yesterday, a parent on a community online forum said that it's nice that teachers have finally decided to work," Peters said. "In response to our school being back in person, I felt something inside shatter. I would encourage you to recognize that, even if you believe teachers and staff aren't working – that we haven't worked THE HARDEST in the last few years nobody in the history of EVER has been motivated by ugly. Loving kids is the most purest form of beauty there is. And it'll outweigh your ugly all day."
Peters went on to say that "the best classroom management strategy is to like your students. It's not a feeling. It's a choice. Choose to see the best in them."
No one wants to disappoint someone who genuinely cares about them, and that is something that Ms. Peters never did. Recently she received a heartfelt letter from a student who wanted to say thank you. Mrs. Trudy Peden, who teaches Family Dynamics and Child Development at Center Hill High School here in Olive Branch, Mississippi, also recently received an uplifting student letter.
"I am so glad I could have you as a teacher," the CHHS student wrote to Mrs. Peden, who like Ms. Peters often goes above and beyond for her students. "You made me feel very comfortable, safe, and appreciated. I have been struggling mentally, especially with school, but you helped me so much. You proved that there are some teachers that really care for students."
I believe being a teacher is one of the hardest jobs out there. They spend all day long at school, working and planning for hours and hours, not to mention that over half of them are club and sport sponsors and coaches so they have to stay after school and don't get out till late, and they still have to go home and take more hours planning and making fun and enthusiastic lessons.
Mrs. Angel Pilcher is another CHHS teacher who inspires and is always helping around the school. Not only does she teach Nutrition and Wellness and Resource Management, but she also runs the farm here and she continues to grow and expand it. She's doing wonderful things here. She works day and night to make sure that the chickens, ducks, rabbits, pigs – oh, and we can't forget about her wonderful vegetation – are all tucked in at night as she reads them a bedtime story. She makes sure she feeds them and whether there's rain, sleet, snow, or hail, she will still be out there singing the Choco man song that she specifically made up for one of her rabbits that she adores.
Mrs. Pilcher is a hero here at the home of the Mustangs, and whenever someone is feeling sad, they just go out to the farm and it instantly brightens their day. I wrote her a letter a few months ago for an assignment I had for a club I am in here at Center Hill about not to give up because she's doing a wonderful job. And this goes for all teachers, staff, and administrators, just like I told Mrs. Pilcher. Don't give up. The students are depending on you. I know it gets hard sometimes, but I know you can overcome any obstacle that is thrown at you. WHY, you may ask? Because you are a teacher, and all teachers are capable just like all students are capable of learning.
This is why I feel like teachers should get paid more. Teachers should be paid more because the foundation is set by teachers and they teach the students' basic principles that they will need for the future, which will improve the young, bright minds that will shape the future generations like Ms. Peters stated above. Some even have to deal with trouble-making kids, conference meetings, and summer school.
All in all, it's really time consuming and overwhelming on their part. Teachers are a huge necessity in the day-to-day lives of kids. They help small kids build a firm base and foundation in the world of education. They also help us succeed in our future, for example, in college or in jobs. I strongly believe that if there is an increase in teacher pay, then there would also be an increase in the academic status of students. If a teacher is paid a little bit more, then they can make the learning environment just that more inviting. They can buy fun activities as well as make the learning environment better.
Teachers do so much for kids mentally and physically. While Mrs. Pilcher brightens a kid's day with the animals, and Mrs. Peden brightens her students' day by listening to their emotional needs, Ms. Peters brightens a kid's day with a little super glue and a small talk. It's the little things that count. All teachers, not just Mrs. Pilcher, Mrs. Peden and Ms. Peters, deserve what they get plus more. They are not required to do what they do. Mrs. Pilcher is not REQUIRED to have a farm. Mrs. PEDEN is not REQUIRED to make her students feel appreciated. Ms. Peters is not REQUIRED to give a child a few bucks for a haircut, but she did anyway. WHY? Because they are teachers, and that's what teachers do.
A teacher is someone who loves and cares and nurtures. A teacher is a person who works tirelessly to make learning engaging, exciting, and relevant. At the core of their work is a desire to help each student and to start them on an educational journey. A teacher is a delegator, demonstrator, lecturer, tutor, and a prompter. A teacher is a person who doesn't just hear you but physically listens to what a child is saying to them, and they can also multitask.
A teacher is someone who works their behind off for a little bit of "nothing." Why? Because they are a teacher, and that's what teachers do. Teachers are here to guide, not to destroy. They're here to protect, not to prey. Teachers do everything in their power to educate and build a clear path for their students' future. That is why they should get paid more. Teachers should get paid more with no doubt because of the hard work and dedication that they endure while doing what they love to do.
Teachers work tirelessly day and night to make sure that they do their job to the best of their abilities, because they are shaping generations upon generations of kids' futures. Whether you see it or not, teachers deserve more.
"To sum everything up, I believe that the salary for schoolteachers should increase," Eric Mann wrote in an argumentative essay on medium.com. "A higher pay would attract more candidates for the job, increase student grades, and inspire students to pursue a career as a teacher. I think it's a good career, it just needs a little boost to make it really great."
Being a teacher is hard, and to Ms. Peters, Mrs. Peden and Mrs. Pilcher, and all the other teachers out there, I'm sending you a special shoutout all the way from Olive Branch, Mississippi. Thank you so much for all you do. Even when it seems like you want to give up, please don't, because like I told Ms. Peters when I contacted her on Facebook for permission to publish her heartfelt and touching words, "It will for sure pay off in the end. Keep going!"
The point of writing this article was for everyone who reads this to be touched and moved and come to the realization that the time has come for a change in teachers' pay. There's a reason for the season and a season for everything, and this is the teachers' season. It must change. So many teachers, I can't even count them on my hands, have inspired me and I thank them dearly. It means a lot. So once again to all my teachers who have impacted my life and millions of other kids' lives, I salute you now. You never lose until you quit, and I hope that is something that you teachers never do.
View Comments (1)
About the Writer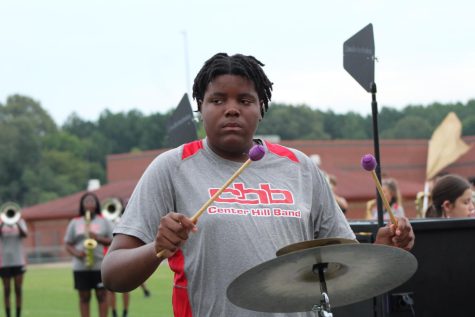 Michael Montgomery, Leady Copy Editor/Asst. Editor
Michael Montgomery (he/him)
Staff/Lead Copy Editor/Assistant Editor
"You never lose until you quit." -Maria
Michael Montgomery, a CHHS junior, is...