Ask the Mustangs: Whose chicken sandwich is better, Chick-fil-A or Popeyes?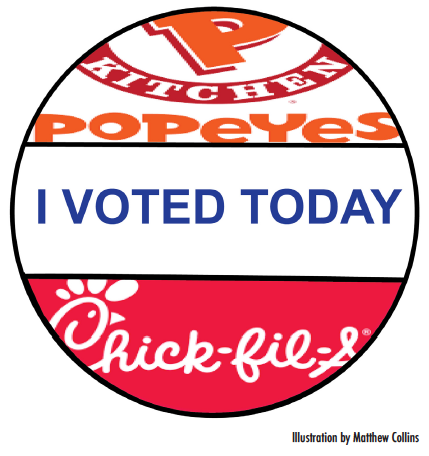 Le' Undria "Lele" Austin, Staff Writer
September 23, 2019
Feathers were flying in August during the Chicken Sandwich War, when Chick-fil-A and Popeyes each bragged about having the best chicken sandwich.
In a Twitter survey conducted by The Pony Express, Chick-fil-A received 81 percent of the vote compared to Popeyes' 19 percent. Fifty-two Twitter users responded. In a similar poll on Instragram, 29 voters said they liked Chick-fil-A's chicken sandwich better, while just four people preferred Popeyes.
Here's how other Mustangs weighed in on which fast food restaurant won the Chicken Sandwich War:
"Neither, because I don't like Chick-fil-A and I don't like Popeyes.
Katyierney Bagley, senior 
"I like Chick-fil-A better, because you know when you mix it with them sauces girl, I'm telling you it's fire. And you know Popeyes is good too, but I just haven't tried their chicken sandwich.
Qualinda Moore, junior
"Chick-fil-A, because you don't have to wait as long and it's just better. Popeyes just puts chicken between bread. It's like, you can do that at the house."
Makiya Lowman, sophomore
"Chick-fil-A, because it's better and it tastes better."
Jeffrey Strauser, freshman
"I've never tried the Popeyes chicken sandwich, but I have tried the Chick-fil-A sandwich.  I really don't know the difference."
Charay Kounhavong, freshman
"I haven't tried Popeyes' sandwich. I like the flavor of the Chick-fil-A sandwich. It's not too dry or anything."
Eric Ngo, freshman
"I've had the Popeyes sandwich, but not the Chick-fil-A sandwich. The Popeyes sandwich was crispy and like really good, and it was really tender and juicy. I would try Chick-fil-A. It sounds pretty good."
Cameron Snyder, sophomore
"The Chick-fil-A sandwich just tastes better, like Chick-fil-A is better in general. Popeyes is so irrelevant. I have tried Popeyes. It's lame. It's not all that good."
Angelia Andrews, sophomore
"I haven't tried the Popeyes chicken sandwich, but I have tried Chick-fil-A. I like the way it melts in your mouth, how soft the chicken is, how the pickle tastes like chicken, how buttery the bread is. It's so nice. And then you put the Polynesian sauce on it, you know how it's dripping off."
Le'Darius Brookins, junior
"I thought that the Popeyes chicken sandwich was better because I felt it was juicier and that it had a better flavor."
Veronica Corral, senior