Center Hill beats Hattiesburg 73-69, will play OB for 5A title
Center Hill beat Hattiesburg 73-69 on Tuesday, paving the Mustangs' way to the 5A championship game. In what will be the two teams' fourth matchup of the season, the Mustangs (30-3) will face the Olive Branch Conquistadors (25-7) Friday night in Jackson in an attempt to bring home the school's first basketball state championship.
The Pony Express sat down with forward Decorian Payton and Coach Newton Mealer to talk about the season, the Final Four, and the upcoming championship. Payton, who scored 10 points against Hattiesburg, has been on the team for three years and has started the last two. He has been a vital part of the Mustangs' success this season. Mealer has led the Mustangs for nine seasons, appearing in two Final Fours and winning coach of the year three times.
Decorian Payton
Q: Describe what this season has been like for you.
A: It's been a bunch of hard work that's prepared us for these big games that we are playing in, like the Hattiesburg game. We do a bunch of 50/50 ball drills and against Hattiesburg we won a lot of those. A lot of the stuff we do in practice prepares us for big games like we had yesterday.
Q: What kind of opponent was Hattiesburg, compared to other ones you have played this season?
A: Hattiesburg was like a football team, that's what we called it. Most of them were muscular, and they were quick. We had to play physical with them and box out and be aggressive, because that's how they play.
Q: At the beginning of the season did you all think you would be in the state championship?
A: To be honest, yeah, because this summer we had a very good summer. We only lost like two games and the games that we did lose were by like one or two points. The mindset of the team this year is way different from last year, so I thought we were gonna be better than we were last year.
Coach Newton Mealer
Q: Describe what the season has been like for the team.
A: The word you are probably going to hear from a lot of people is special. This is a special group of players, and it's been a special season. It started in the summer, where we began the bond and the brotherhood on the road this season playing a lot of games together. We found a great nucleus, we got great leaders, but more importantly these guys truly care for each other and they really have each other's backs. For me, their chemistry is a lot better than any team that I've ever coached.
Q: What kind of opponent was Hattiesburg, compared to other ones you have played this season?
A: Hattiesburg is probably one of the top five teams we've played this year. Very guard oriented, can shoot the basketball. Obviously when you get to the top four it's normally the four best teams in that classification. They were a very worthy opponent, very classy. I respected how they played the game and I'm just proud that we could come out with the victory.
Q: At the beginning of the season did you think you would be in the state championship?
A: Well, that's always your goal as a coach, and I did think we had a chance. I always say this, when you go through a season there is three things you gotta have. You gotta have great players, you gotta have a lot of luck, and you've gotta have a lot of good prayers. Those things have all fallen in our favor this year. I felt like we had a chance to get here. So here we are, and we're excited about being here.
Q: What's next, as far as preparing to play Olive Branch for the fourth time this year?
A: Well, we are going to tweak the game plan just a little bit. Olive Branch obviously is one of the better teams in the state. They're playing back to back state championships for a reason, because they've got good players. We're excited about it. I think they got it right, the two best teams in the state are playing and one of us has got to come out on top. We just gotta get some rest, we gotta prepare and mentally and physically be ready for Friday's game.
Q: Do you think there was a mental barrier the first two games against Olive Branch, and if so do you think the team crossed that barrier when they won?
A: We hadn't beaten them in the school's history, and now that we know we can beat them, we feel like we have a great opportunity to beat them again. We're past that mental barrier. Now it's we gotta prepare mentally from fatigue, from a long season and from getting off the road at two o'clock in the morning, turning around and having to drive back down there. If we can get rested, and we can make some shots Friday night, we've got a good chance.
About the Writer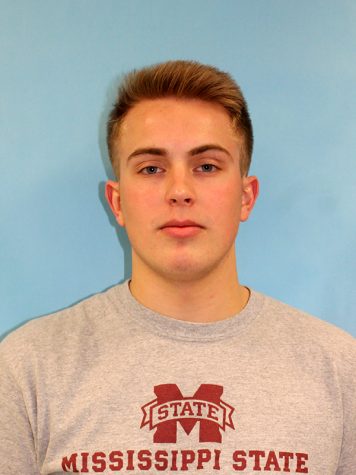 Laine Crabb, Staff Writer
Laine Crabb, Class of 2020, has been a member of The Pony Express staff for two years. He covers sports but has also written opinion pieces.