Opinion: National anthem not a platform for protest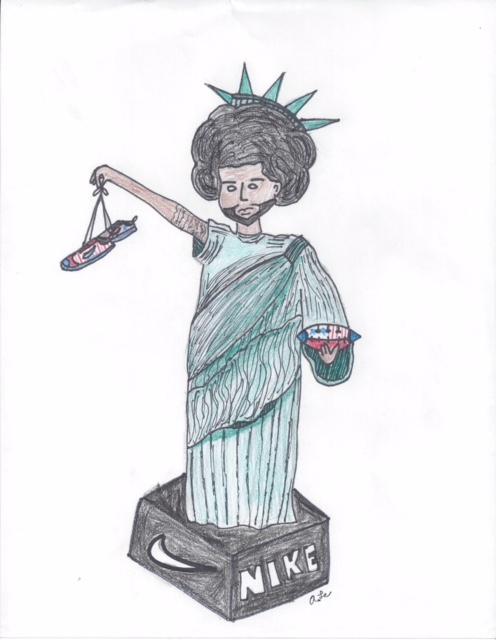 Brooke Neal, Staff Writer
September 29, 2018
Thanks to Nike, a 2-year-old controversy about kneeling for the national anthem is back in the news. An ad for the shoe and sportswear company features former San Francisco 49ers quarterback Colin Kaepernick, who started the controversial kneeling campaign in 2016.
Kneeling for the national anthem is wrong. I understand that the First Amendment gives us freedom of speech, but not standing at attention during "The Star-Spangled Banner" is still wrong. If you are a famous athlete, you are supposed to be a role model. Many children watch you on television, so if they see you kneel, they might think it's OK for them to kneel.
Kaepernick first took a knee on Sept. 1, 2016. Although he had previously sat during the anthem at two preseason games, Kaepernick first gained attention for refusing to stand during the national anthem on Aug. 26, 2016, in a preseason game against the Green Bay Packers. The next day, theundefeated.com quoted Kaepernick as saying, "I am not going to stand up to show pride in a flag for a country that oppresses black people and people of color. To me, this is bigger than football and it would be selfish on my part to look the other way. There are bodies in the street and people getting paid leave and getting away with murder."
The American flag does not oppress black people. People do that. It's not the flag's fault. You can't blame the flag, because it's not a living thing. People are responsible for their actions, and you can blame them all you want.
In light of what Kaepernick did, it wasn't OK for Nike to advertise a football player who shows disrespect to our country. In the ad, Kaepernick says, "Believe in something, even if it means sacrificing everything." This is an insult to the men and women who have died to give us our freedom. It's OK for Kaepernick to protest, but using the national anthem and kneeling for the flag is not the right platform to do it.
Kneeling is wrong because it shows that you don't care about our country. We should honor those who fight for our country by standing for the national anthem. We are taught from day one to always stand for our national anthem, just as we stand for the Pledge of Allegiance.
Each year since 2001, we honor those who died when our country was attacked on 9/11. We honor the ones who died in the Twin Towers. We honor the husband who called to tell his wife "I love you" one last time before his plane went down. We honor the wife who stopped in the stairwell of one of the towers to call her husband to say, "I will always love you forever." We honor the mother and father who kissed their kids goodbye the morning they died. We honor the police officers who rushed in with the firefighters to help others, only to die themselves. We honor all of our soldiers who serve here and overseas.
The way we honor them is by standing for the national anthem and for the flag. So if standing for our country isn't good enough, then I don't know what is.